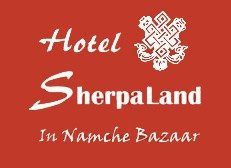 Hotel Sherpaland is situated in the heart of Namche Bazaar, at the elevation of 3450 meters from the sea level. Located in the Eastern part of the Nepal we are surrounded by some of the highest mountains in the world, the khumbu valley, home of the gentle and friendly Sherpas. Hotel Sherpaland has started to operate its service since Fall 2007. It is one of the hotels, where you can feel the comfort of a 5 star standard service in the Himalaya. The structure and the interior decorations are truly a blend of local architecture and tradition with modern comfort.
The luxurious Hotel Sherpaland caters to the whims of the demanding traveler. We offer 22 deluxe/ standard rooms with traditional interiors and equipped with toilet/ hot shower that adds toward your delightful stay. The restaurant offers delicious continental cuisine and a well stocked bar certainly adds to the comfort. Telephone, Internet facilities, Laundry services are available and hospitality desk can assist you to make arrangement for Yak/ Horse Riding, Ticket Reconfirmation ( Domestic Flight) and information about the areas.
Hotel Sherpaland is the perfect place for trekkers and mountaineers, who are on/back to their destination. Our services and friendly environment will physically and mentally prepare you to digest the thin air. Likewise, the well equipped running showers will reward your exhausted yet! memorable days in the Himalaya.
All Inclusive
We provide the best value to our customers by continuously refining our processes and cost structure.
Book Early & Save
Located in the heart of the village offers you an easy access to shopping areas and mingle with the locals.